Language Development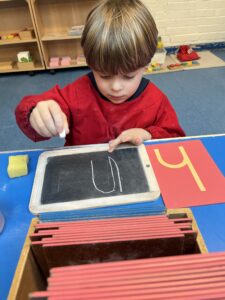 Language development is crucial for facilitating social skills and future academic work. Dawmouse children will be constantly exposed to language and will be given ample opportunities to extend their vocabulary through conversation, project work, circle time, stories etc.
Letter sounds are introduce using the phonetic sounds of the letter and using the sandpaper letters, which have a raised impression of each letter sound. by tracing their fingers over the letter, the children learn through repetition and through their muscular memory.
In the Montessori system, the children learn the alphabet phonetically and are encouraged to build three letter words using the large movable alphabet. When a child is ready, they can move on to the Montessori reading scheme and writing.
In many activities throughout the daily session, children are exposed to songs, stories and rhymes to further assist both their communication and listening skills. The book corner is reflective of project work and also represents cultural situations. Children are encouraged to treat the books with appropriate care.